| | |
| --- | --- |
| Model Number | EVVIS-QR-1 |
| Form-factor | Cuboid with a TFT Screen |
| Functions | TOTP configurable |
| Dimensions | 74×53×12.9 mm |
| Weight | 40 gr |
| Programmable | 1 profile |
| Product ID | T2-62 |
| | | |
| --- | --- | --- |
| | Watchguard AuthPoint | fully compatible |
| | Wordpress | fully compatible |
| | Google Account | fully compatible |
| | Azure On-Prem MFA Server | fully compatible |
| | Azure Cloud MFA / Office 365 AD Premium P1 or P2 | fully compatible |
| | Azure Cloud MFA / Office 365 AD Free/Basic | fully compatible |
| | Stripe Dashboard | fully compatible |
| | Meraki Dashboard | fully compatible |
| | ISDecisions UserLock | fully compatible |
| | ESET Secure Authentication | fully compatible |
| | Watchguard AuthPoint | fully compatible |
| | Duo | fully compatible |
| | AWS | fully compatible |
| | Not listed here | Write us |
Please check product and platform compatibility before placing an order
All pictures shown are for illustration purpose only. Actual product may slightly vary due to product enhancement or other reasons.
EVVIS-QR1 USB Programmable TOTP hardware token
EVVIS-QR1 is a hardware device developed for Electronic visit verification. It is a standards-based TOTP hardware token that can also be programmed over USB. The OTP generated is shown on the display both as regular digits as well as a QR image. This makes it possible to minimize typos when entering the OTP.

Specifications

Dimensions
74*53*12.9 mm
Weight
40 gr.
Screen
TFT Color screen 2.4 inch
resolution 240*320
Battery type
Rechargeable lithium-ion battery
+ Disposable Battery (for RTC)
Battery life
Rechargeable battery = 3 months, rechargeable via USB port
Disposable Battery = 6 years

Algorithm
TOTP as per RFC 6238
6 digits OTP
Configurable using USB Config tool


Hash SHA1 or SHA256
Time step: 30 s or 60 s

Features
USB Programmable - seed and TOTP parameters (hash type, time offset) can be set using USB Config tool
OTP is shown as a QR code
HID/Keyboard emulation (OTP sent via USB to avoid manual entry)
USB cable included
One-touch OTP Entry
EVVIS-QR1 device can send the OTP over USB thanks to HID emulation function built-in Windows only. This will allow minimizing the user actions needed to authenticate with any 2FA-enabled system.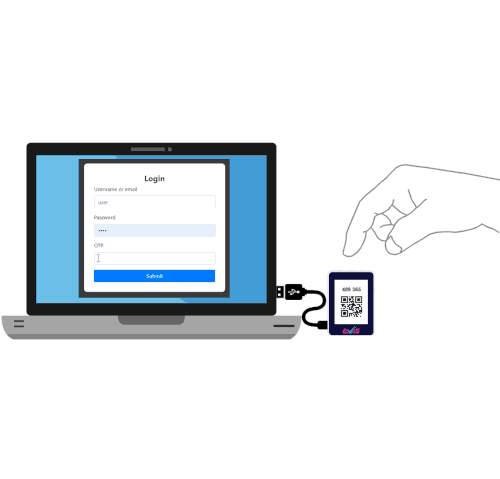 OTP shown as a QR image
The devices showing the OTP as QR code have the most potential of greatly improving user experience when a special app is used. This is perfect for TOTP based electronic verification systems.